CYMA AK47 is a new addition to the TacToys range for 2021. This blaster is made out of nylon construction, it looks and feels great. This blaster also has a simulated blowback, priming function, metal outer barrel and tight-bore plastic inner barrel to increase accuracy at range. This blaster is the best value for money in the AK range.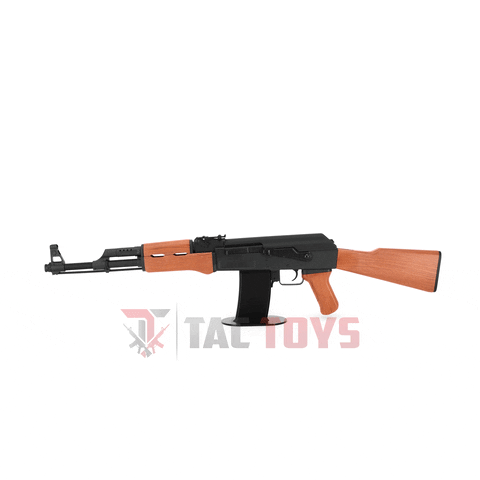 - 50cm inner barrel, with 7.25mm inner barrel diameter
- Metal Outer barrel
- 7.4v battery
- Nylon CYMA V3 gearbox
- 1.2 spring
- Nylon Gears
- 480 Short motor
- Realistic blowback function
- Mag prime
- Safe/Semi/Full Automatic fire selection
- Nylon Body,  Metal Trigger & components
- Imitation Wood Grain Stock & Front Guard

Packaging Contents:

1 x 2021 CYMA AK47 - Gel Blaster

1 x High Capacity Gel Ball Magazine
1 x 7.4v Li-Po Rechargeable Battery
1 x 7.4v USB Battery Charger
1 x Safety Glasses 
1 x Gell Ball Starter Pack (Recommended to purchase more)
Power Type:
Li-on / Li-Po - Battery (Included) 

Performance:
Approximately 250 FPS - Upgrade to 11.1V Battery for up to 50% increase in firing rate. See link below:
Firing Range:
82+ feet
(25+ meters)
Recommended Gels:
7 - 8mm. To purchase the best Gel Balls for this blaster go to the link below:
Please note that we do NOT recommend the use of starter gels included in the box with this blaster.
They are much softer and of lesser quality than our branded gel balls, and will likely cause feeding issues and otherwise lead to jamming and misfires.
 Warranty Length:
3 months (Mid Range)
Please note this product is a Toy.