The SKD E018S 14.8v is a new pistol for 2021. It is an upgrade from the standard SKD E018. It has more detailing, removable torch and more power to 14.8v.
It's size, quality, price and the fact it has select fire are all massive selling points, and it truly is a great all-rounder pistol.
Powered by an inbuilt 7.4v rechargeable battery, simply slide on the torch to switch to 14.8v power.

* Do not manually rack back the slide on this blaster, or you may damage internal components and void the warranty.

Warranty Length:
30 days (Entry Level)
- 7.4v and 14.8v power option
- Tactical Torch
- Magazine feds
- Blowback slide
- Material: Nylon
- Semi or Full Auto firing modes
- Rail to add on accessories
- High capacity magazine

Package Contents:
1 x SKD E018S 14.8v Gel Ball Blaster
1 x Gel Ball Magazine
1 x 7.4v Li-Po Rechargeable Battery
1 x Tactical Torch with Built-in Battery
1 x USB charging cable
1 x Safety glasses
1 x Gell Ball Starter Pack (Recommended to purchase more)
Power Type:
Li-on / Li-Po - Battery (Included) 

Performance:
Approximately 150 FPS

Firing Range:
15+ Metres
Recommended Gels:
Milky Whites grown in water for 4 hours, you can purchase here. Please note starter pack of gel balls and Titan 2.0 gel balls may cause feeding or firing issues. 


Please note that we do NOT recommend the use of starter gels included in the box with this blaster.
They are much softer and of lesser quality than our branded gel balls, and will likely cause feeding issues and otherwise lead to jamming and misfires.
The Original Electric Pistol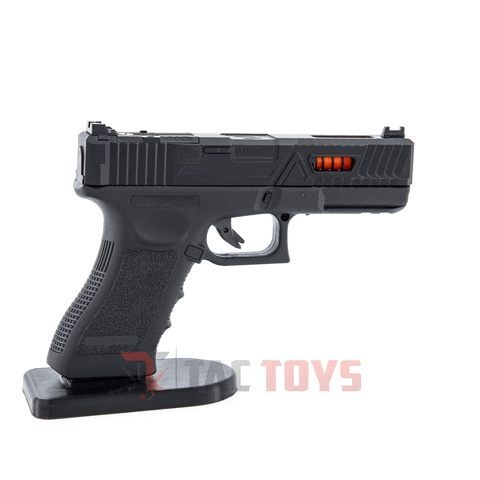 Select Fire Modes

Blowback Slide

Magazine Prime

Upgrade Options
The new 2021 E018S 14.8v electric pistol gel blaster. Switch from 7.4v to 14.8v by just sliding on the torch for more power.
In an attempt to replicate the a real pistol, this gel blaster version has a fast response blowback feature that pulls the slide back and then forth when you pull the trigger. It is a great feature to have if you want the realistic feeling.
To ensure you do not dry fire and miss the target, the E018S 14.8v features a magazine prime which feeds the gel balls up into the blaster so that every time you pull the trigger, a gel ball fires.
Not only is it a great stock blaster, but the E018S 14.8v also has the ability to run an extended magazine and a drum magazine. The drum magazine can hold up to 300 gel balls at once. You can also attach a laser on the 20mm railing underneath the front end.
Attention to Detail
Attention to Detail
Yes it has a very low price, however this does not mean you miss out on the finer details. The E018S 14.8v has everything you would expect on the blaster when comparing it to the real thing. This blaster is so well designed, it is even used in movement training scenarios for security personnel.
Ergonomic Pistol Grip
Feel every small bump of the grip when you are holding this blaster. Professionally designed to help you grip the E018S even when your hands are sweaty or you are drawing your pistol quickly.
Ergonomic Pistol Grip
Full Black - No Orange!
Full Black - No Orange!
In previous editions of the E018, it features orange accents including orange trigger and orange barrel requiring you to purchase an extra blackout kit and fit it youself to replace them. Now, the latest edition comes with everything black and it looks amazing!
Everything You Need
The E018S 14.8v features everything you need to get started. From gel balls (we recommend buying more), removable torch with in built battery, safety glasses, USB charger and magazine, you only need to charge your blaster, hydrate the gels and you are ready to play!
Everything You Need
The SKD E018S 14.8v - Essential Blaster
Get Yours Today