The Desert eagle has still remained such a popular blaster due to being such a simple, well built, affordable entry range blaster, providing a great introduction into hobby or a reliable sidearm. The desert eagle is built from a high quality nylon shell, metal pistol grips, simulated blowback and a great rate of fire. If you're looking to get into the hobby of gel blasting, want a reliable sidearm that's incredibly fun and easy to use, then we highly recommend picking the Desert Eagle V2.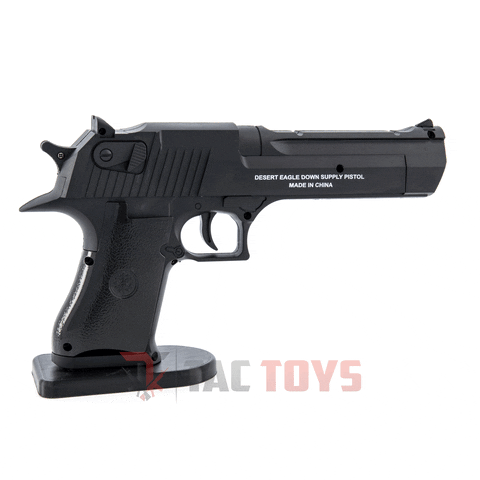 - Full Nylon Shell
- Black Nylon Trigger
- Magazine fed
- Full Auto
- Top Rail to add on accessories
- Magazine
- Material: ABS
Package Contents:
1 x Desert Eagle V2 Gel Ball Blaster (Black trigger not orange)
1 x Gel Ball Magazine
1 x 7.4V Li-on Rechargeable Battery
1 x USB Charging Cable
1 x Safety Glasses 
1 x Gell Ball Starter Pack (Recommended to purchase more)
Power Type:
Li-on / Li-Po - Battery (Included) 

Performance:
Approximately 150 FPS
Firing Range:
65+ feet
(20+ meters)
Recommended Gels:
7 - 8mm. To purchase the best Gel Balls for this blaster go to the link below:
https://www.tactoys.com/collections/gel-balls

Please note that we do NOT recommend the use of starter gels included in the box with this blaster.
They are much softer and of lesser quality than our branded gel balls, and will likely cause feeding issues and otherwise lead to jamming and misfires.
Warranty Length:
30 Days (Entry Range)
Please note this product is a Toy.